GFOAT_Sliders-FINAL Webinars 1kx225
2022_GFOAT-Gov-Accounting-Academy_SLIDER
---
GFOAT President's Message
July 2022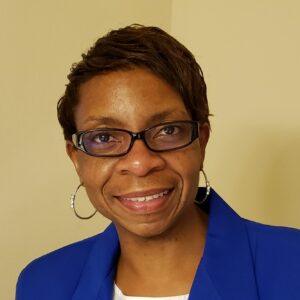 Hello, GFOAT Members!
Question:  Who knew two years ago that we would still be dealing with the dreadful "C" word?!
Answer: No one!
But…here we are… still dealing with COVID-19. We are still coping with it and discovering innovative ways to continue doing what we as finance officers do: making the best out of something we have no control over to meet service level expectations.
I am honored and humbled to serve as your GFOAT president for 2022-2023. I hope you are all doing well, surviving the budget season, and finding a minute or two to enjoy the summer.
Energized from the GFOA 116th Annual Conference in June, your GFOAT Board is already working to make this an unforgettable year. Our goal is to ensure the organization is still on track to meet the needs of our membership and have some fun along the way.
Because of our new normal, in-person, virtual, and hybrid training options are being planned. However, we're remaining flexible and prepared to shift formats as necessary, still keeping member safety a priority.
Please consider attending the Texas Municipal League Annual Conference in San Antonio on October 5-7 if your schedules and budgets permit. Several of your GFOAT board members and I are panelists for one of the sessions, and it would be great to look into the audience and see familiar finance faces.
Then, we head back to San Antonio for the 2022 GFOAT Fall Conference. The convenience and familiarity of the location are a perfect set-up for success. Sessions will be conducted by the brightest and best in their fields, delivering relevant content. We hope attendees will leave feeling they've grown professionally and personally.
As we make the final push of closing out one fiscal year while simultaneously finalizing and adopting the budget for the next one, remember to take a couple of moments to be still. Then, relish the accomplishment of working our government finance magic once again!
Katina Hampton, MBA, CGFO
President, GFOAT
Director of Administrative Services, City of Friendswood
---
DEBT RESTRICTION BILL – H.B. 1869 by Representative Dustin Burrows
On Monday, March 22, the House Ways and Means Committee met to hear House Bill 1869 by Representative Dustin Burrows. H.B. 1869 would modify the definition of "debt" for purposes of the debt service property tax rate calculation to only include debt approved at an election. This means that tax-supported debt obligations that are not approved at an election, like certificates of obligation, time warrants, anticipation notes, and certain financing agreements must be paid through the maintenance and operations portion of a city's tax rate.
The GFOAT Governmental Affairs Committee comprised of Blu Kostelich, Steven Glickman and John Zagurski are meeting with Bill Longley and Monty Wynn with TML bi-weekly to monitor this bill as well as others that would greatly impact Governmental Finance. They will be presenting at the Spring conference and have created the following bullet points to help you understand this bill along with some recommendations. Read More
---
GFOAT Members and Sponsors,
Our world has changed so much in the last 30 days. We have gone from putting the finishing touches on our spring conference and trying to wrap our heads around Senate Bill 2 to social distancing and sheltering in place. We are making decisions daily regarding the safety and security of our citizens and employees while trying to finalize our audits and begin the budget process.
Although our founders in 1933 would never have guessed that we would be faced with a pandemic, I do believe we exist to promote excellence in government finance and to build valuable relationships. Now more than ever, GFOAT is here for you.
The GFOAT Board is meeting virtually on a bi-weekly basis to ensure that the organization continues to move forward. We are working on virtual training opportunities so that members can stay current. Budgeting 101, Governmental Accounting Academy, and Senate Bill 2 trainings are greatly needed among the membership. The Board will discuss the best course of action and timing for these trainings.
Here are some other valuable resources you may find useful:
TML publishes updates on the COVID-19. These updates along with other valuable information can be found at the Coronavirus (COVID-19) Resources page.
GFOAT will periodically post training opportunities you can access on the remote training tab. GFOA offers several webinars to ensure you get training and the national conference is moving to a virtual platform.
Staff is still working. Please reach out if you need guidance or have questions
All GFOAT face-to-face meetings have been cancelled until May 11, 2020, pursuant to the CDC recommendations. We will continue to monitor the CDC recommendations as well as the Governor's executive orders and will update the membership accordingly.
Senate Bill 2 worksheets as well as the notice are not available yet. Here are frequently asked questions from TML on Senate Bill 2 and the effects of the Governor's disaster declaration on the bill to help in the interim. If you have questions you can reach out to Bill Longley.
Washing our hands after touching almost anything has become our new routine during these times. Some of us have grown so tired of singing "Happy Birthday!" If you're tired as well, here are some other songs with 20-second choruses you might try:
"Take on Me" by A-ha
"Jolene" by Dolly Parton
"Raspberry Beret" by Prince
"Truth Hurts" by Lizzo
"Stayin' Alive" by the Bee Gees (like that CPR scene from "The Office")
"Africa" by Toto
Take care of yourselves and your families. We look forward to seeing you all when we are over the hump.
GFOAT President, Board, and Executive Director